First of all, this never would have been accomplished without our amazing and wonderful friends. Thank you to Viv, Raymond, Morgan and Beth! I honestly can't thank them enough. They all rock.
Edited to add: Don't miss the
recipes that kept the party going
all weekend long! Black Bean Soup and Apricot BBQ Chicken.
In the beginning, there was green, and it was a very bad, sad dank thing.
What we started with (already started clearing pot rack and shelves out)
Isn't that green something else? It's not just color we didn't like, it's also a really weird texture. They did some sort of scraper that I guess was to give it more texture (which...why? It's already a pretty lumpy plaster) but really just made it look extra sad.
The very dated cabinets. You don't get the full effect since we already pulled the doors out.
The wood, in and off itself isn't all that bad. But with the whitish peeling cabinets and the nasty filth catchers (seriously, worst. design. ever) it was not a good look.
The work technically began on Fri night with Morgan and Beth and the unloading/shifting/etc.
Saturday morning painting began! Here is a time lapse video Scott took of the first layer of primer going down. Note to the world: green sucks to cover and dark green? UGH! 3 coats of primer, and really we probably could have stood a 4th.
Drawers and doors, stripped naked and awaiting their fate.
Filth catchers being filled with wood putty. They are still drying, so it will be a few days before the doors go back up.
And now, the big reveal...
Evening, random light, appliances starting to reappear!
Daylight!
Cabinets! And their lovely new contact paper (Thanks Vivvie!)
Cabinets, walls and window!
View from dining room
View from living room
Linkups: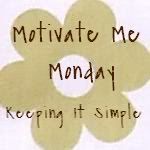 Polly Wanna Crafter!